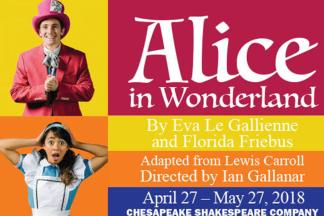 This fantastical tale, full of clever wordplay and timeless characters, is as beloved by adults as by children. "Curiouser and curiouser," Alice's adventures reveal her pluck, innocence, resourcefulness, and imagination. Come with us to a day-glo Wonderland of absurd riddles, amazing creatures, and dazzling costumes and puppets that are both contemporary and inspired by the classic illustrations of Sir John Tenneil. Bring your kids! Bring your parents! Alice will entertain your whole family.
Event Contact
Jean Thompson
8502448570
Event Details
Friday, April 27, 2018, 8:00 PM – Sunday, May 27, 2018, 10:30 PM
Repeats weekly Sunday and Thursday and Friday and Saturday -- until Sunday May 27, 2018 -- except Thursday May 3, 2018, Thursday May 10, 2018.
Prices: – Array
410-244-8570
Location
Add Event To Your Calendar