Hispanic Heritage Month: Latinx Author Giannina Braschi at Towson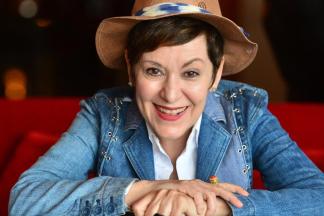 Giannina Braschi wrote the poetry epic "Empire of Dreams", the Spanglish classic "Yo-Yo Boing!", and the 911 dramatic novel "United States of Banana" which was produced as a play and a comic book. Braschi has been called "one of the most revolutionary voices in Latin American literature" by PEN and the United States Library of Congress. She writes in Spanish, Spanglish, and English to explore the enculturation processes of Latin American immigrants and to dramatize the political options of her native Puerto Rico: nation, colony, or state. With a Ph.D. in Spanish Literature, she taught literature and creative writing at Rutgers University, City University of New York, and Colgate University. She is a Fellow of National Endowment for the Arts and has won grants/awards from New York Foundation for the Arts, Ford Foundation, Danforth Scholarship, PEN American Center, and Puerto Rican Institute for Culture, among others. he has published scholarship on Cervantes, Garcilaso, Bécquer, Machado, and Lorca, as well as manifestos on the creative processes of poetry.
This event is free and open to the public. Sponsored by the Department of Philosophy & Religious Studies, CLA Dean's Office, Foreign Languages and Department of English. Please direct any questions to Dr. Anne Ashbaugh at 410-704-2750 or [email protected].
8000 York Road, LA4310, Towson, MD 21252
Giannina Braschi reading from "United States of Banana".
Event Contact
Towson Philosophy
410-704-2750
Event Details
Tuesday, September 24, 2019, 7:00 PM – 8:30 PM
Free Admission
Location
Add Event To Your Calendar
What Others Are Saying
PEN AMERICA: "Giannina Braschi, one of the most revolutionary voices in Latin America today, wrote the postmodern poetry classic EMPIRE OF DREAMS and the Spanglish tour de force novel YO-YO BOING! The Associated Press praised Braschi's explosive new book UNITED STATES OF BANANA (2011) as a work of unlimited imagination and fearless language. She writes in these three languages to express the enculturation process of millions of Hispanic immigrants to the USA and to explore the three politic options of her native Puerto Rico–Nation, Colony or State."