Bus Trip to George Washington's Mount Vernon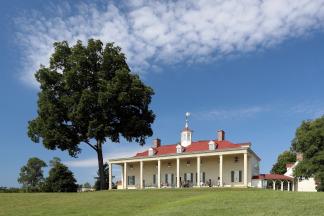 Join Homewood Museum's director and curator, Julie Rose, Ph.D., and assistant curator, Michelle Fitzgerald, for an all-encompassing look at George Washington's Mount Vernon. The day will begin with a tour of the gardens and outbuildings, including the Slave Memorial, Pioneer Farm, and the tomb of George and Martha Washington. Then, move inside for a tour of the mansion house's first two floors, including the newly restored Front Parlor (2019) and Blue Room (2017).
Before the return trip to Baltimore, visitors will enjoy a box lunch and participate in an exclusive sit-down Q&A with Jessie MacCleod, the associate curator at George Washington's Mount Vernon and lead curator for the landmark exhibition, "Lives Bound Together: Slavery at George Washington's Mount Vernon." This experience will provide a rare opportunity to ask MacCleod about the challenges and rewards of interpreting the experiences of Mount Vernon's enslaved workers.
Please note: Bus will depart promptly at 8 a.m. from Evergreen Museum & Library, 4545 N. Charles Street, Baltimore, MD 21210. Return to Evergreen by 5:30 p.m. (Traffic may impact return time.) Please wear comfortable shoes and weather-appropriate clothing. Walking will be required. Box lunch provided.
Event Contact
Amy Mulvihill
410-516-5589
Event Details
Monday, September 23, 2019, 8:00 AM – 5:30 PM
410-516-5589
Location
Add Event To Your Calendar