Apocalypse Book Club October Event - "I'm From Nowhere"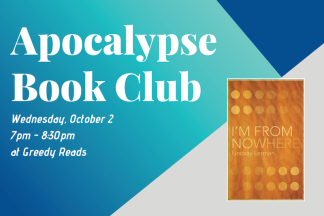 The Apocalypse Book Club is a conversation series bringing artists and writers together in Baltimore to share diverse perspectives about how we maintain hope, and make meaningful work, in the face of environmental devastation.
Join us at the Greedy Reads bookstore in October to discuss author and philosopher Lindsay Lerman's debut novel "I'm From Nowhere"—a feminist portrait of grief in a near-apocalypse—along with Baltimre sound artist, who will discuss his work exploring listening and noise and the legacy of atomic weaponry, in a conversation moderated by writer Kate Reed Petty.
Free and open to the public, with snacks (wine and fig newtons) provided!
Learn more and RSVP at www.ApocalypseBook.Club
Event Contact
Kate Reed Petty
202-306-7979
Event Details
Wednesday, October 2, 2019, 7:00 PM – 8:30 PM
Free Admission
Location
Add Event To Your Calendar