Voices of Carmen Showcase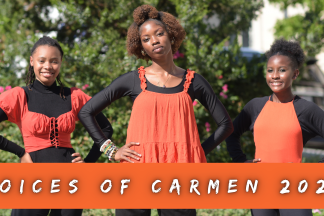 About this Performance:
Seating Is Limited, please RSVP/purchase a ticket to attend
This event is indoors.
Audience members are required to wear masks while inside of the building.
About the Show
Enjoy an evening of original work and reperatoire from the cast, crew, and musicians of Voices of Carmen 2022. This immensely talented youth company are collaborating together to bring you this performance.
Week 2 of VOC 2022! Camp Carmen is a five-week on-the-job training program in the performing arts where youth 14-21years collaborate with teaching artists to create a musical adaptation of the opera Carmen called Voices of Carmen. Participants are hired to work as either the performing cast or production crew. Each week campers participate in professional development workshops in creative, resume and bio writing. They also practice public speaking to hone new skills in a supportive environment. In addition to career and creative workshops, Social-Emotional Learning (SEL) is woven into the program with a focus on emotional intelligence and nonviolent communication. Restorative Response Baltimore leads sessions on conflict resolution and the House of Ruth Maryland leads a teen workshop on healthy relationships.
Event Contact
Lauren Erazo
4108718322
Event Details
Monday, August 1, 2022, 6:00 PM – 8:00 PM
4108718322
Free
Location
Add Event To Your Calendar