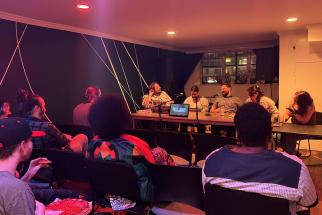 Thursday, December 7, 2023, 6:30 PM – 8:30 PM
Repeats weekly Thursday 6 times.
Creative Alliance
Learn the fundamentals of improv comedy with a skilled and supportive instructor from Highwire Improv. We'll play some very silly games, learn how to create characters, explore techniques to collaborate and create as a team, and even perform full improvised scenes together!Of course, you won't be facing this new experience alone – you'll be learning these new skills with a team of new improvisers, and by the end you'll be ready to put on a showcase for your friends, family, and fans!