BROS/Arena Players Present: Constellations & Crossroads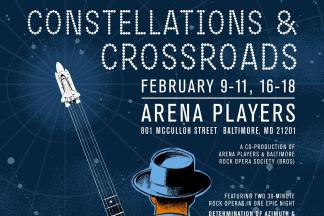 Arena Players, Baltimore's historic African American community theater, and Baltimore Rock Opera Society are partnering on an epic night of double-header theater entertainment.
Determination of Azimuth traces the work and career of Katherine Johnson, a black female mathematician who rose within the ranks of NASA to become the chief mathematician responsible for computing paths for manned rocketry on the Apollo program. Katherine's words and formulas become the elements of of a powerful journey. "Putting rockets into space is the easy part - getting them back home is where it gets hard."
The Battle of Blue Apple Crossing is a fictionalized account of the legend of blues guitarist Robert Johnson, where religious deities battle for his soul in exchange for musical greatness. The music follows American history from gospel, field spirituals & blues to early rock and roll & garage rock.
Both shows will be fully produced musical spectacles, presented back-to-back, with a live band. The 90-minute presentation will take place at Arena Players intimate space in West Baltimore.
Event Contact
Tyler Merchant
3015145836
Event Details
Repeats every 2 weeks Sunday and Friday and Saturday 2 times.
Prices: – Array
Location
Add Event To Your Calendar