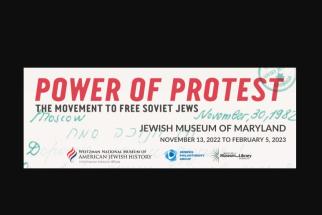 Sunday, January 8, 2023, 12:00 PM – Sunday, April 2, 2023, 5:00 PM
Repeats weekly Sunday and Monday and Tuesday and Wednesday -- until Sun Feb 05 2023 -- except Sun Dec 25 2022, Mon Dec 26 2022, Tue Dec 27 2022, Wed Dec 28 2022, Sun Jan 01 2023.
Jewish Museum of Maryland at the Herbert Bearman Campus
The Jewish Museum of Maryland is proud to present Power of Protest: The Movement to Free Soviet Jews, a traveling exhibition created by the National Museum of American Jewish History and exploring one of the most successful human rights campaigns to date. The panel exhibition showcases Americans' efforts in the late 1960s through 1990 to free refuseniks—Jews who lived in the Soviet Union and were denied the rights to live freely, practice Judaism, or leave the country due to their religion.