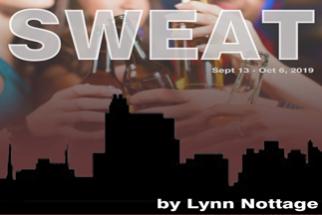 Sunday, September 22, 2019, 2:00 PM – 4:30 PM
Repeats weekly Sunday -- until Sun Oct 06 2019.
Spotlighters Theatre
SWEAT by Lynn Nottage
Directed by Darlene Harris
Sept 13 - Oct 6, 2019 Fri, Sat at 8pm and Sun at 2pm
Filled with warm humor and tremendous heart, Sweat tells the story of friends and coworkers who have spent their lives sharing drinks, secrets, and laughs while working on the same factory floor. But when layoffs and picket lines begin to chip away at their trust, the friends find themselves pitted against each other in a heart-wrenching fight to stay afloat.