2018 Baker Finalist Showcase in Visual and Interdisciplinary Arts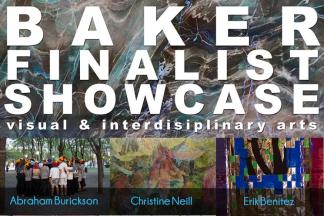 An exhibition of works by Finalists in the 2018 Baker Artist Awards, April 11–May 6
Opening reception: Wednesday, April 11, 6-9pm
At The Peale Center
RSVP here
PARTICIPATING ARTISTS:
In the Visual Arts category:
Laura Amussen, Noa Heyne, Christine Neill, Rachel Rotenberg, Susan Waters-Eller
In the Interdisciplinary Arts category:
Erick Antonio Benitez, Abraham Burickson, Jeffrey Gangwisch, Fred Scharmen, Stewart Watson
Self-guided visits are free, by appointment, on Thursdays, Fridays, and Saturdays from 12-6pm, and Sundays from 10-4pm. Book your visit here.
Event Contact
David London
301-787-4250
Event Details
Saturday, April 21, 2018, 12:00 PM – 6:00 PM
Repeats weekly Thursday and Friday and Saturday -- until Sunday May 6, 2018.
Sunday, April 22, 2018, 10:00 AM – 4:00 PM
Repeats weekly Sunday -- until Sunday May 6, 2018.
Wednesday, April 11, 2018, 6:00 PM – 9:00 PM
Free Admission
Location
Add Event To Your Calendar