Dinosaurs: Land of Fire and Ice™ Exhibit Opening Weekend Celebration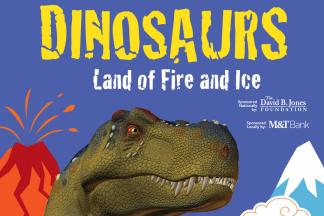 Travel back in time to when dinosaurs last roamed the land and explore a variety of engaging and interactive activities and environments! In the Land of Fire, get connected to the prehistoric home of the Triceratops and T-Rex. Grab your little one, circle the land in insect costumes, buzz through a volcano with oozing lava and work through a swampy bog, and identify an ecosystem of animals and plants.
In the Land of Ice, trek north to learn more about cold-weather dinosaurs. While you're there, take a picture with an Edmontosaurus (a four-legged herbivore) and inspect the nest of the Troodon. Learn about the dinosaur food chain and enjoy an "eye spy" game featuring some of the animals and plants of the period, such as the conifer tree and magnolia flower. An ice cave beckons guests to climb, crawl, and slide through a frozen dinosaur habitat. Become a professional Paleontologist at the Field Research Station, enter the Big Dig wearing your goggles, and get prepared with all the right tools. Try to find the remains of ancient dinosaurs, play a matching game at the fossil identification table, and try to figure which fossils came from each dinosaur. Create stories and complete an oversize dinosaur puzzle, then craft an ecosystem using a variety of techniques, including fossil rubbings, partial tracings, and free-hand drawing.
Dinosaurs: Land of Fire and Ice was created by Minnesota Children's Museum and is sponsored nationally by The David B. Jones Foundation and sponsored locally by M&T Bank.
Event Contact
Abbi Ludwig
410-864-2680
Event Details
Repeats daily -- until Sunday September 9, 2018.
Prices: – Array
Location
Add Event To Your Calendar