Hamilton: How the Musical Remixes American History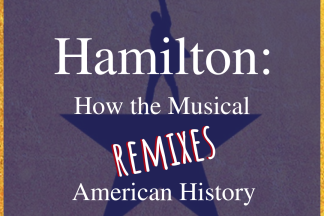 In this talk, University of Maryland historian Dr. Richard Bell will explore the success of the Tony Award-winning musical, "Hamilton," and what it tells us about the marriage of history and show business. Learn what this amazing musical gets right and gets wrong about Alexander Hamilton, the American Revolution, the birth of the United Sates and why all that matters. Bell will examine choices "Hamilton's" creators made to simplify, dramatize and humanize the complicated events and stories on which the show is based.
Doors open 6 pm, lecture is 6:30 pm. Cost: $15 for MdHS members, $20 nonmembers, including refreshments. Pre-registration is recommended but not required.
Dr. Bell (Ph.D. Harvard) is an Associate Professor of History at the University of Maryland and serves on the Board of Trustees at the Maryland Historical Society. His research interests focus on American history between 1750 and 1877. Learn more about him and his published work and talks at Richard-bell.com.
Event Contact
Jennifer Michael
410-685-3750
Event Details
Thursday, June 27, 2019, 6:00 PM – 8:00 PM
Prices:
$15 (members)
–
$20 (nonmembers)
410-685-3750
1
Offer good
06/06/19

to

06/27/19
Redemption Instructions
Visit https://bit.ly/2Z95ATI and buy your 1/2 price ticket!
Location
Add Event To Your Calendar