11th Annual Baltimore Dragon Boat Challenge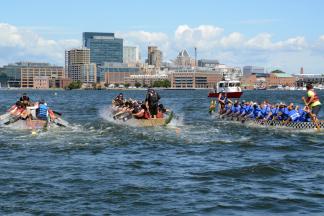 PADDLES UP -- DRAGONS TO DESCEND ON BALTIMORE
Baltimore Dragon Boat Club Sponsors 11th Annual Baltimore Dragon Boat Challenge
The 11th Annual Baltimore Dragon Boat Challenge 2019 will be held Saturday, June 22 (rain date: Sunday, June 23) from 8 a.m. to 4 p.m. along the waterfront promenade at Under Armour's Headquarters in the City's Locust Point Neighborhood –1010 Hull Street, Baltimore, MD 21230.
The Baltimore Dragon Boat Club will host a mix of over 20 corporate, city, breast cancer, and club dragon boat teams from Annapolis, Philadelphia, Pittsburgh, ,Charlotte, New York City, and Washington, DC in 500-meter races. The heats will be based on best times with teams advancing through a semi-final elimination round. Admission is free. More information is available online at http://www.baltimoredragonboatclub.com/home.
About the Baltimore Dragon Boat Club
The Baltimore Dragon Boat Club is a 501(c)(3) nonprofit organization formed in 2008 to advance the 2,500-year-old sport of dragon boat racing through competition, while generating its awareness in the Greater Baltimore area. Dragon Boating, the second fastest growing sport in the world, is on its way to becoming firmly established as a recreational and competitive team sport in Maryland. The Club welcomes paddlers of all ages to join in this recreational pursuit, develop healthy bodies and strong spirits through physical activity, and form strong friendships. The team trains Mondays, Wednesdays and Saturdays (April - October) at Under Armour's Global Headquarters Marina and participates in a range of festivals and regattas in the Mid-Atlantic region.
Event Contact
John Pezzulla
Event Details
Saturday, June 22, 2019, 8:00 AM – 4:00 PM
Free
Location
Add Event To Your Calendar