Hitching Their Dreams to Untamed Stars: Joyce J. Scott & Elizabeth Talford Scott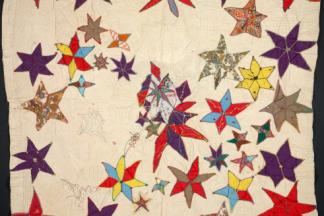 MacArthur award-winning artist and Baltimore icon Joyce J. Scott's earliest art lessons were at the knee of her mother, the renowned fiber artist Elizabeth Talford Scott. The eldest Scott passed down to her daughter knowledge inherited from generations of craftspeople in their family who had honed their expertise and persisted in their artistry through the extreme deprivations of slavery and its aftermath in sharecropping, migration, and segregation. "They couldn't buy things," Joyce J. Scott recounts, "so they made things. And they wouldn't just make something, they'd make something beautiful."
Hitching Their Dreams to Untamed Stars brings together 9 artworks—quilts, beaded and glass sculptures, weavings, and more—made separately or in collaboration by mother and daughter. The two lived together in Baltimore's Upton neighborhood for more than 60 years until Elizabeth Talford Scott passed away in 2011. Both artists developed extraordinary bodies of work, propelled by their phenomenal skill and shared drive to experiment.
This exhibition is generously sponsored by John Meyerhoff, M.D., and Lenel Srochi-Meyerhoff, the Estate of Margaret Hammond Cooke, and the Jean and Allan Berman Textile Endowment Fund. Special thanks to Joyce J. Scott and Goya Contemporary, Baltimore.
Event Contact
Sarah Pedroni
4435731700
Event Details
Repeats weekly Sunday and Wednesday and Thursday and Friday and Saturday -- until Sunday December 1, 2019.
Free
Location
Add Event To Your Calendar