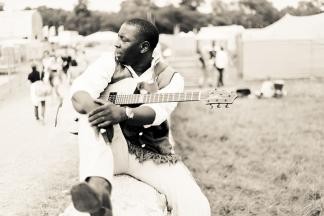 Limited Seating, Dance Party. Please contact the box office for accessibility concerns or for seating accommodation.
Often referred to as "The Hendrix of the Sahara", Vieux Farka Touré was born in Niafunké, Mali in 1981. He is the son of legendary Malian guitar player Ali Farka Touré, who died in 2006. Ali Farka Touré came from a historical tribe of soldiers, and defied his parents in becoming a musician. When Vieux was in his teens, he declared that he also wanted to be a musician. His father disapproved due to the pressures he had experienced being a musician. Rather, he wanted Vieux to become a soldier. But with help from family friend the kora maestro Toumani Diabaté, Vieux eventually convinced his father to give him his blessing to become a musician shortly before Ali passed.
Vieux was initially a drummer / calabash player at Mali's Institut National des Arts, but secretly began playing guitar in 2001. Ali Farka Touré was weakened with cancer when Vieux announced that he was going to record an album. Ali recorded a couple of tracks with him, and these recordings, which can be heard on Vieux's debut CD, were amongst his final ones. It has been said that the senior Touré played rough mixes of these songs when people visited him in his final days, at peace with, and proud of, his son's talent as a musician.
Since then, Vieux has gone on to find his own sound and voice, emerging as one of the most explosive and tasteful guitarists actively performing. His newest record, 'Samba', recorded live in front of a small audience at Applehead Studio in Woodstock, NY, is already being hailed by critics as Vieux's finest, most well-rounded and mature album to date. With each new project, Vieux expands his horizons, embraces new challenges and further entrenches his reputation as one of the world's most talented and innovative musicians.
WED JUL 24 | 8PM | $25, $22 MEMBERS (+$3 at the door)
Event Contact
4102761651
Event Details
Wednesday, July 24, 2019, 8:00 PM – 10:15 PM
4102761651
Location
Add Event To Your Calendar