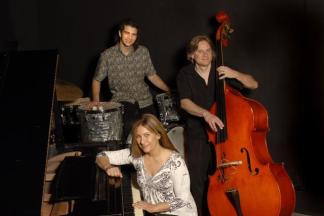 The Jenny Wilson Trio will perform classic jazz with a modern twist at Germano's Piattini in Baltimore's historic Little Italy. The trio is a unique ensemble in that they are a family. Mother Jenny is the centerpiece of the group with her husband, bassist Nathan Wilson and her son, drummer Evan Lintz accompanying her jazz piano inventions and her warm and vocals. Her singing is often compared to that of Diana Krall who she counts as an important influence on her vocal style. Jenny recently appeared at the Mid Atlantic Jazz Festival in Rockville and is a frequent perfomer in many venues in the DMV.
No strangers to Baltimore individually, this will be their first appearance as a trio. Jenny lived on Madison Street and remembers the old Louie's Bookstore Cafe by the Walters Art Gallery. Her husband has performed numerous times in the city with Squonk Opera, and their son Evan is currently a resident of Baltimore, playing with various bands and ensembles in the area.
Jenny spent twelve years in Switzerland, first as a student of jazz pianist Art Lande, then as a student at the Winterthur Konservatorium. She then toured with many European and U.S. jazz ensembles and was a music teacher in the Swiss music schools in St.Gallen. She was featured with singer Samira Mall Darby at the Zurich Jazz No Jazz Festival and also in the Munchener Jazz Zeitung. Jenny is a full time musician and an award winning abstract painter.
'Pour a jigger of Bill Evans and a shot of Christian McBride into a shaker with a dash of sweet vermouth, stir and strain into a cocktail glass, now ease back and sip a heady mix of the Jenny Wilson Duo. Listeners thirsty for new currents in post-bop and new wave jazz will find a fresh elixir in this finely crafted pairing of piano and upright bass.' - A.S. Gintzler, Writer
Event Contact
Cyd Wolf
4107524515
Event Details
Friday, September 27, 2019, 6:00 PM – 9:15 PM
4107524515
Location
Add Event To Your Calendar