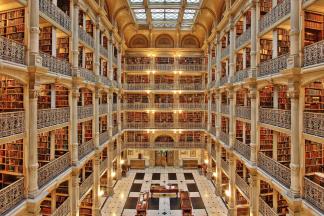 Consistently ranked one of the most beautiful Libraries in the world, the George Peabody Library has been called a "Cathedral of Books." This performance will celebrate not only the collections of the Library, but the breathtaking building itself. Using architecture as inspiration, Baltimore's Ann Street Trio will explore the connections between architecture, music, and visual art.
Artifacts from the planning and engineering of the Library will be on display for the first time. Plus, architectural elements not visible since 1980 will be (literally) uncovered!
Classical works by Beethoven will be paired with the Neoclassical composers he inspired, including Germaine Tailleferre and Francis Poulenc. Come enjoy an evening of chamber music in one of the most awe-inspiring architectural masterpieces in the world! Featuring:
Katlyn DeGraw, Cello
Erik Franklin, Clarinet
Hui-Chuan Chen, Piano
Doors will open at 6pm with seating available for 200 (additional limited standing room available). No tickets required-- entry is free with a $10 suggested donation.
Event Contact
Event Details
Wednesday, August 21, 2019, 6:30 PM – 7:30 PM
Free
Location
Add Event To Your Calendar