The Legend of Tommy Tremain: Who Owns History?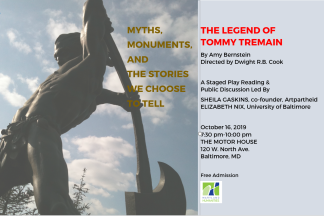 Join us for a lively and entertaining reading of a dramatic new play that asks hard questions about whose stories we tell--and who deserves a statue in the town square. Then share your views during our conversation exploring the myths around monuments and vacant pedestals in Baltimore and beyond. What stories do we tell in public spaces? And who decides? Moderated by Sheila Gaskins, co-founder of Artpartheid, and Elizabeth Nix, Associate Professor, Div. of Legal, Ethical & Historical Studies, University of Baltimore.
Who is Tommy Tremain? What's the real story behind the legend? A tangled web of lies, myths, buried truths, and startling visions unfolds. At the center of it all: a black woman re-shaping history and the future in her own image.
Sponsored by a grant from Maryland Humanities.
Event Contact
Amy Bernstein
4104913133
Event Details
Wednesday, October 16, 2019, 7:30 PM – 10:00 PM
Free Admission
Location
Add Event To Your Calendar