Be Here Baltimore: Listen to over 1500 Baltimore Stories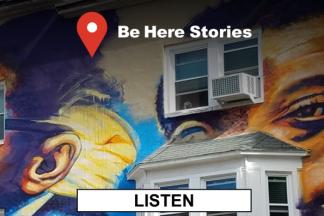 The Be Here: Baltimore storytelling program is a new way to discover the people and places of the city. To date, we have shared more than 1,500 stories: online, at the Peale Center, and in Baltimore's communities. Hear stories from around Baltimore and record your own on the Peale's website or using the Free Be Here Stories App for iOS, powered by MuseWeb.
Click here to listen to stories!
Add Your Story
Check out a Story Map
Download the Be Here Stories App
Be Here is also part of the Museum on Main Street "Stories from Main Street" program, gathering stories from small towns across America as part of the Smithsonian's traveling exhibitions. Be Here: Baltimore is now based at the Peale Center for Baltimore History and Architecture, giving the city's diverse voices and their stories a historic home and new platform in the heart of downtown.
Listen to special collections or find Be Here Stories on a range of platforms including the Be Here Stories iOS app and website, AuthenticBaltimore.org, the Smithsonian's Museum on Main Street website,the izi.TRAVEL app and website, Soundcloud, YouTube, Vimeo, and Tumblr.
Event Contact
Heather Shelton
Event Details
Ongoing
Free
Location
Add Event To Your Calendar