Virtual Tour: Poe Baltimore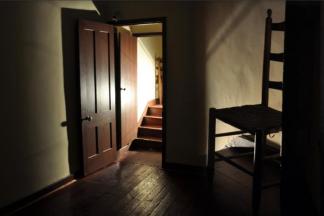 Visit this page for the Virtual Tour: https://www.poeinbaltimore.org/virtual-tour/
In a tiny brick house on Baltimore's North Amity Street in 1833-1835 Edgar Allan Poe wrote some of the early stories that would make him the father of the modern short story, and create and define the modern genres of mystery, horror and science fiction.
His spirit and legacy live throughout Baltimore City, inspiring authors, poets, playwrights, businesses – and even our sports teams. Poe Baltimore celebrates this legacy.
Poe Baltimore was created to fund, maintain and interpret The Edgar Allan Poe House and Museum, and to celebrate the legacy of one of Baltimore's most famous residents. We are dedicated to maintaining the museum as a vibrant experience for the thousands of visitors who come from around the world each year, and as part of a broader mission of city-wide events and educational opportunities.
Poe Baltimore is committed to enriching the experience of visitors to Baltimore, who come to witness the city that inspired Edgar Allan Poe and his intellectual and literary heirs. We are committed to protecting, preserving and celebrating the rich history of the city, the house, and the legacy of one of our most beloved denizens.
Event Contact
Event Details
Ongoing
Free
Add Event To Your Calendar