Katie Procell and Valerie Hsu LIVE STREAMING CONCERT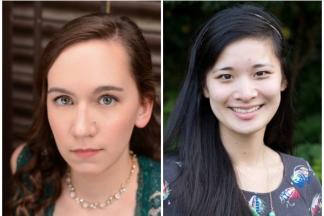 Our Favorite Things: Songs & Arias with Katie & Valerie
The program wILL be songs about Celia by Purcell, Norina's aria from Don Pasquale by Donizetti, Widmung by Schumann (classic), Hexenlied by Mendelssohn, An die Nacht by Strauss, selections by Amy Beach, a selection from Songs of Travel by Vaughn Williams, If They Delight by our good friend Peter Dayton, some Gilbert & Sullivan arias, and Glitter and be Gay from Candide by Bernstein.
Soprano Katie Procell has been praised throughout the Baltimore area for her "golden tone and arresting stage presence" (Peter Dayton). Her musical curiosity includes the avant-garde and she has performed Pierrot Lunaire, Ginastera's String Quartet No. 3, Toch's Edgar and Emily, Messiaen's Harawi, Berio Sequenza III, even Kurtàg's Attila Fragments. Also a lover of opera, Procell's past opera credits include Giselle, Jenny, Mel 2, and other various roles in the two-woman collection of short new operas called Elevator (ENA Ensemble); May Bookstaver (May She| She May; Peter Dayton Music); Mel 2 (Potentialite; ENA Ensemble); Lisa (La Sonnambula; Opera Alchemy); Susanna (Le nozze di Figaro; Peabody Conservatory); Giulietta (I Capuleti e i Montecchi; Alchemy); Krysia (understudy, Out of Darkness: Two Remain; Baltimore Theatre Project); Rosina (Il barbiere di Siviglia; James Madison University); Valencienne (The Merry Widow; JMU); Phyllis (Iolanthe; Luray Opera Theater); Patience (Patience; JMU); Despina (Così fan tutte; Alchemy & Luray). Currently, she studies with Elizabeth Futral and has also studied with Phyllis Bryn-Julson at Peabody Conservatory (MM '18) and Kevin McMillan at James Madison University (BM '16). Procell has also trained as an apprentice artist with Opera Roanoke, at Oberlin Baroque Performance Institute, Halifax Summer Opera Festival, Centre for Opera Studies in Italy, and SongFest.
Procell is currently represented by Spotlight Artists Management. As a lover of new music, she works closely with composer Peter Dayton and has premiered several of his works. She will appear on an upcoming album of Peter Dayton's vocal music and on an upcoming album of Garth Baxter's.
Valerie Hsu is a collaborative pianist, community organizer, and religious professional based in Baltimore, MD. A semifinalist in the Fischoff National Chamber Music Competition, Valerie studied at Vanderbilt University with Craig Nies and Melissa Rose, where she was recipient of the inaugural Gall/Martin Collaborative Arts Award. Ensemble highlights include a MinEvent performance of the music of John Cage on prepared piano with the Merce Cunningham Dance Company, the Southeastern United States premiere of George Antheil's complete and restored Ballet Mècanique, and serving as orchestral pianist on the Vanderbilt University Orchestra's 10-day performance tour of China.
Streaming cost is $5
Donations are welcomed!
The link will be emailed to you 15 minutes before the show
and will remain active through June 26
Event Contact
Event Details
Saturday, June 20, 2020, 2:00 PM – 3:30 PM
Location
Add Event To Your Calendar