Basic Mindfulness Practice, Live!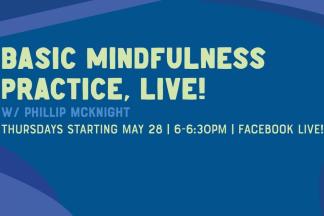 Join mindfulness meditation teacher Phillip McKnight as he guides us in a weekly basic mindfulness practice on Facebook live!
Phillip is generously donating his time to lead these free sessions. If you would like to show him some love, you may send donations to his PayPal at [email protected]. Phillip has pledged half of all donations to go to Creative Alliance!
THURSDAYS starting MAY 28 | 6 - 6:30PM | FREE | Facebook Live!
Event Contact
Creative Alliance W/ Phillip McKnight
Event Details
Repeats weekly Thursday -- until Friday July 31, 2020.
Free
Location
Add Event To Your Calendar