Loyola to host anti-racism webinar series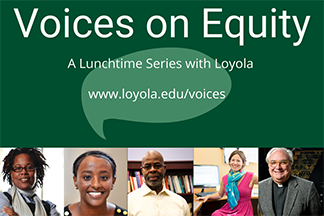 This summer Loyola University Maryland will host "Voices on Equity: A Lunchtime Series with Loyola," a series of webinars discussing topics around race, anti-racism, and living out a deeper commitment to Baltimore.
"Our Catholic, Jesuit tradition calls us to be contemplatives in action," said Cheryl Moore-Thomas, Ph.D., chief equity and inclusion officer. "The Voices on Equity: A Lunchtime Series with Loyola offers an opportunity for us to hear from experts across our campus as we reflect and commit to the work we must do in the aim of anti-racism. This summer series is an important step in Loyola's continuing commitment to action, offering practical approaches that help us lean into our mission more fully. This series is a part of a cohesive and inclusive plan to condemn racism at Loyola and beyond."
The scheduled webinars are:
"Walking Through the Moment: Lessons Learned and Ways to Recognize and Practice Antiracist Behavior"
Presented by Karsonya Wise Whitehead, Ph.D., associate professor of communication and African and African American studies at Loyola, and Helina Haile, M.A., Peace Studies, University of Notre Dame
Wednesday, June 24, 2020
Noon-12:30 p.m.
"The Social Construction of Systemic Racism: Why Doing Nothing Makes You Complicit"
Presented by H. Lovell Smith, Ph.D., assistant professor of sociology
Wednesday, July 8, 2020
Noon-12:30 p.m.
"Activism, Engagement, and Baltimore"
Presented by Erin O'Keefe, '03, director of Center for Community Service and Justice and York Road Initiative
Tuesday, July 14, 2020
Noon-12:30 p.m.
"Reflection on Anti-racism"
Presented by Rev. Timothy Brown, S.J., associate professor of law and social responsibility
Wednesday, July 22, 2020
Noon-12:30 p.m. This presentation will not include a Q&A session.
Additional webinars may be scheduled later this summer.
Questions for the presenters can be submitted in advance of the webinars, which are being organized by Loyola's office of equity and inclusion. Registration is required, but all are welcome.
To register and for more information, visit www.loyola.edu/voices.
Event Contact
Molly Robey
410-617-1334
Event Details
Wednesday, June 24, 2020, 12:00 PM – 12:30 PM
Wednesday, July 8, 2020, 12:00 PM – 12:30 PM
Tuesday, July 14, 2020, 12:00 PM – 12:30 PM
Wednesday, July 22, 2020, 12:00 PM – 12:30 PM
Free
Location
Add Event To Your Calendar