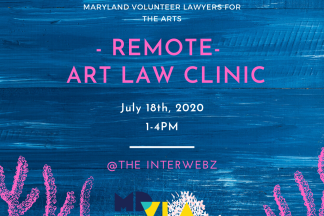 Make an appointment for our Art Law Clinic on July 18th, 2020, 1-4pm! For our July clinic, you can snag a FREE 30-minute consult w/ one of our volunteer attorneys to sort out any general issues or questions you might have!
*Please, one appointment booking time per client(s). Double booking will result in a cancellation of one of your appointment times, no exceptions. Thank you!
Maryland Volunteer Lawyers for the Arts is a non-profit organization dedicated to protecting income eligible Maryland based artists' and arts organizations' legal rights through pro bono services and educational opportunities. You can learn more about our organization and apply for services at www.mdvla.org.
Event Contact
Katelyn Brown
410-752-1633
Event Details
Saturday, July 18, 2020, 1:00 PM – 4:00 PM
410-752-1633
Free
Location
Add Event To Your Calendar