New Timbuktu Community Education Institute - Summer 2020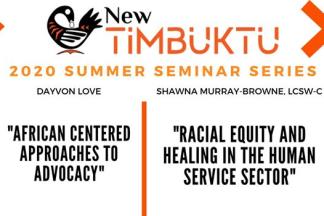 The purpose of the New Timbuktu Community Education Institute is to provide high quality professional development that is based on and draws from methodologies that are derived from the bodies of work and community based institutions that have traditionally been marginalized.
NTCEI will provide a variety of African Centered, Liberation Focused, Community Empowerment tools that are substantively informed by racial equity. These tools are useful particularly for those who work in the human/social service sector (teachers, school administrators, social workers, community organizers, public health professionals etc.)
Session name: African-Centered Approaches to Advocacy
Facilitator: Dayvon Love – Director of Public Policy, Leaders of a Beautiful Struggle
Saturdays – August 1 – August 29, 2020
Session Name: Racial Equity and Healing in the Human Service Sector
Facilitator: Shawna Murray-Browne, LCSW-C
Tuesdays, August 4 – September 1, 2020
Due to the COVID-19 public health emergency, all sessions will be hosted online.
These sessions are being offered for FREE – but with very limited capcity.
To register, please fill out this short application:
https://lbsbaltimore.wufoo.com/forms/r14lbe1z0rgpy9a/
If you have any questions, contact:
Candace Handy
Events & Projects Curator – Leaders of a Beautiful Struggle
[email protected]
Event Contact
Leaders of a Beautiful Struggle
Event Details
Saturday, August 1, 2020, 12:00 AM – 12:00 AM
Free
Location
Add Event To Your Calendar