The BIG Show Exhibition & Variety Show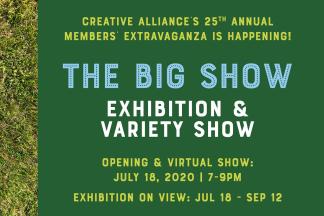 Our 25th annual members' extravaganza IS happening!
The 25th Anniversary BIG Show Exhibition & Variety Show opening will take place on Saturday, July 18th, 2020 – and we want you to participate! Don't miss the opportunity to have your artwork on the walls of our main gallery (yes, on our actual walls), or your fabulous talents showcased on our virtual stage. Who knows... you might be the next BIG thing!
Important Dates:
The BIG Show Drop-off & Video Submission:
June 29 to July 3 (In-Person & Digital Submission)
The BIG Show Exhibition Opening & Variety Show:
July 18, 2020 | 7-9pm (Virtual)
The BIG Show Exhibition on View:
July 18, 2020 to September 14, 2020 (In the Main Gallery & Digital)
The BIG Show was the very first Creative Alliance program that led to twenty-five years of artistic expression, community, cultivation of young minds, and so much joy. It all began in our original location in Fells Point in 1995 and, after few moves, landed in the renovated Patterson Theater in 2003 to spur artistic development in Highlandtown. But, Creative Alliance is more than a location, it's more than a building, it's a force for positive change in Southeast Baltimore and beyond, its a community of artists and audiences that believe in the power of artistic expression. And so… The BIG Show Must Go On!
This event is all about our incredibly talented members - those that have just joined Creative Alliance and those that have been with us since the beginning and are at the heart of our organization.
Visit creativealliance.org/25th-anniversary to become a member today.
The Details:
The BIG Show exhibition will be hung in our main gallery. Members' will safely hand off their artwork to our staff, which will be hung on the walls. Artwork will be professionally photographed by us for additional inclusion in a digital online exhibition. Creative Alliance will showcase all pieces included, promote those for sale, and highlight our included members throughout the duration of the exhibition. The BIG Show Exhibition Opening & Variety show will highlight artwork in the exhibition AND performances from our talented members!
Details & Submission forms are here: https://www.creativealliance.org/2020/the-big-show
Event Contact
Creative Alliance
Event Details
Saturday, July 18, 2020, 7:00 PM – Saturday, September 12, 2020, 9:00 PM
Free
Location
Add Event To Your Calendar