Global Connections: Navigating the New Abnormal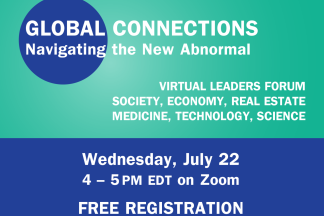 Global Connections is a monthly virtual leaders ZOOM forum. Moderator ROBERT SIEGEL, award-winning, legendary host of National Public Radio's All Things Considered (1987 - 2018), interviews experts on society, politics, and the economy and leaders in finance, real estate, technology and medicine to discuss new industry realities and how to navigate the complexities of the COVID-19 pandemic.
On July 22, Robert Siegel will interview:
• US Senator Jeanne Shaheen of New Hampshire: "Restoring Bipartisanship and Civic Discourse"
• David Brooks, NY Times op-ed columnist: "America's Five Epic Crises"
• Yael Eisenstat, former CIA officer, US diplomat, Cornell Tech Visiting Fellow: "Social Media's Role in Civic Life"
Free Registration: www.globalconnections.splashthat.com
Global Connections is hosted by American Friends of Rabin Medical Center (AFRMC), a 501 (c)3 nonprofit charitable organization that was established in 1995. Through a variety of programs and fundraisers across the United States, the funds raised by American Friends of Rabin Medical Center benefit AFRMC in furtherance of its mission to fund charitable, educational and scientific purposes at Rabin Medical Center. A portion of all funds raised are used for AFRMC operations. Israel's Rabin Medical Center in Petach Tikvah, named after former Prime Minister Yitzhak Rabin, is the pride of Israel, serving the needs of one million patients annually without regard to ethnicity, nationality or religion.
6/23/20 Global Connections American Friends of Rabin Medical Center hosts its monthly virtual leaders forum Global Connections: Navigating the New Abnormal, on the economy, real estate, technology, and medicine and healthcare. Moderator Robert Siegel (host of NPR's All Things Considered from 1987-2018) interviews: EJ Dionne, Washington Post Op-Ed Columnist - "Lasting Pandemic Social Changes" Scott Rechler, Chairman/CEO, RXR Realty - "Navigating the New Abnormal" Yuval Rooz, Co-founrder/CEO, Digital Asset - "COVID-19: Returning to the Workplace" Dr. Michael Drescher, Director, ER & Trauma Center at Israel's Rabin Medical Center
Event Contact
Nate Bonzagni
2122792522
Event Details
Wednesday, July 22, 2020, 4:00 PM – 5:00 PM
2122792522
Free
Location
Add Event To Your Calendar