Mary Church Terrell: Performance and Q&A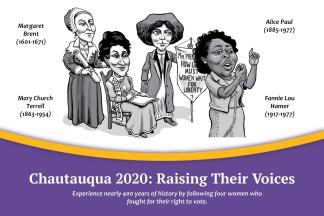 This month, Maryland Humanities' living history series goes virtual as the organization raises the voices of four notable women who took action to secure their right to vote. Sherrie Tolliver brings Mary Church Terrell (1863–1954) to life. Born in Tennessee to two formerly enslaved business owners, Terrell helped to found the National Association for Advancement of Colored People (NAACP) and the National Association for Colored Women's Clubs (NACWC). She worked with the National Women's Party in picketing at the White House in support of women's suffrage.
A video of the performance will be posted for 1 week on July 20th. Join us Wednesday July 22nd at 1pm as we stream the performance and host a live Q&A with the performer starting at 2pm. Sign up to participate in the Q&A and you'll be entered in a drawing to win fun prizes.
The video of each performance will be posted for one week for independent viewing on our website, our Facebook page, or our YouTube channel.
Event Contact
Sarah Weissman
Event Details
Wednesday, July 22, 2020, 1:00 PM – 3:00 PM
Free
Location
Add Event To Your Calendar