Teaching the Holocaust, Empowering Students: A Free Workshop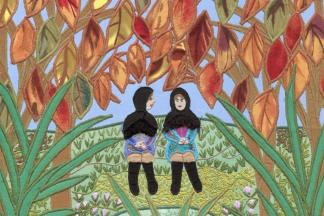 AVAM is honored to host both Art and Remembrance plus Echoes & Reflections to discuss, share methods to teach, and approach the history of the Holocaust through their unique perspectives and source materials. This event is generously sponsored by Art and Remembrance and welcomes educators, community leaders and interested individuals and parties.
Two days of FREE programming:
Wednesday July 29th 9am-12pm EST; and
Thursday July 30th 9am-12pm EST
From Echoes and Reflections:
"How do we create impactful and thoughtful learning of the Holocaust with students? Through our signature professional development program, participants explore and gain access to a range of classroom content and consider instructional enhancements to support students' study and reflection of the history of the Holocaust and its ongoing meaning in the world today. Educators enhance their own knowledge about the Holocaust, including the history of antisemitism, and build confidence and capacity to teach this complex subject."
From Art & Remembrance:
"Art & Remembrance will share with educators how to use art as a primary resource along with testimony and other stories that took place at the period of time. The lessons and array of resources shared will allow educators to discover ways to use the art and story of Holocaust survivor Esther Nisenthal Krinitz in their learning communities.
This interactive two-day workshop is open to all educators and community leaders who are interested in trauma-informed teaching and learning. Although the sessions will incorporate life before, and during the Holocaust through the eyes of young survivors in Poland and Germany, the issues and activities can be transferred to current affairs and can be used across the curriculum."
HOW TO JOIN US
After you register at https://www.eventbrite.com/e/113353870478/, you'll receive a confirmation email with the link to join us via Zoom for the workshop.
About Echoes and Reflections
Echoes & Reflections is dedicated to reshaping the way that teachers and students understand, process, and navigate the world through the events of the Holocaust. The Holocaust is more than a historical event; it's part of the larger human story. Educating students about its significance is a great responsibility. We partner with educators to help them introduce students to the complex themes of the Holocaust and to understand its lasting effect on the world.
About Art & Remembrance
Inspired by the art and story of Holocaust survivor Esther Nisenthal Krinitz, Art and Remembrance uses art and personal narrative to recognize individual courage and resilience, and to foster understanding and compassion for those who experience injustice.
Event Contact
Event Details
Wednesday, July 29, 2020, 9:00 AM – 12:00 PM
Thursday, July 30, 2020, 9:00 AM – 12:00 PM
Free
Location
Add Event To Your Calendar