Virtual Front Row | Al Rogers Jr. & Da Lor Band + Brandon Woody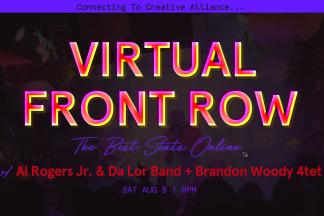 Fresh off two full days of Sidewalk Serenades that moved Baltimore's streets, we bring two young stars of the hip hop and jazz scenes for an epic night. Gather around the warm glow of your screen for the hottest Livestream on the internet.
Al Rogers Jr. is a rapper, singer, and songwriter from Baltimore, MD. Al was a poet before he became passionate about creating music. His music reflects the duality of his city and upbringing. He has become one of the most impactful performer's coming out of Baltimore, mixing a background in dance with an innate knack for crowd control and participation. His band, which includes Brandon Woody on trumpet, has groove, swing, and, of course, swooz.
Swooz? 'Swooz' is Al's mantra and the way he aspires to live daily. "Swooz is a way of life – expressing compassion, benevolence, love, and gratitude."
Al has performed at the Baltimore Museum of Art, Baltimore Symphony Orchestra, and graced the stage of Artscape and AFRAM. He's been featured in the New York Times, Vice, Pitchfork, and many other publications.
Brandon Woody is a young Baltimore trumpeter who is making an indelible mark on the jazz scene. His 4Tet, with Troy Long on keys, Salem Kamalu on synth and key bass, and Allen Branch on drums, is creating the music of now. Jazz and hip hop, vibe-heavy soul.
SAT AUG 8 | 8PM
Event Type: Music and Performance
$8, $6 MBRS. (+$3 service fee) | $15 Supporter
Event Contact
Event Details
Saturday, August 8, 2020, 8:00 PM – 11:00 PM
Location
Add Event To Your Calendar