Tuesdays at Two: Live Music with Seth & Will Kibel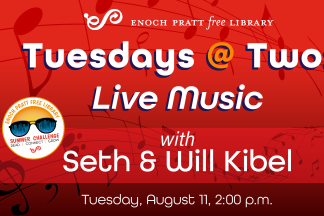 Seth Kibel is one of the Mid-Atlantic's premier woodwind specialists, working with some of the best bands in klezmer, jazz, swing & more. He has won 28 Washington Area Music Awards (Wammies). Wowing audiences on clarinet, saxophone and flute, Seth is the featured performer with The Kleztet, Bay Jazz Project, Music Pilgrim Trio, The Natty Beaux, and more. His son, Will, is a 15 year old hostage pianist who is about to commence the 10th grade at McDonough School. Go to www.sethkibel.com for more information about Seth and his musical exploits.
We hope your virtual visit to the Pratt Library is a positive one.
Please follow these basic rules of courtesy and responsibility during your Library visit: https://www.prattlibrary.org/about/index.aspx?id=640
Dial-In Information
Join in Crowdcast:
https://www.crowdcast.io/e/tuesdays-at-two-live-7
The performance will also be broadcasted on the Enoch Pratt Free Library Facebook page.
Event Contact
Tiffany James
Event Details
Tuesday, August 11, 2020, 2:00 PM – 3:00 PM
Free
Add Event To Your Calendar