Container Gardening with a Baltimore City Master Gardener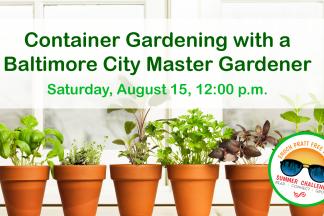 Anything can be grown in a container from a violet to fig tree once you learn the basics. Urban living can be challenging for budding gardeners who want to have more green space. Let a Baltimore City Gardener help you find the right plant for the right pot and how to make it thrive. Get tips on how to make your containers more interesting with plants you may never have considered or even known about to green up your city home.
We hope your virtual visit to the Pratt Library is a positive one.
Please follow these basic rules of courtesy and responsibility during your Library visit: https://www.prattlibrary.org/about/index.aspx?id=640
This event is part of Summer Challenge, a Pratt Library reading challenge for all ages. Log your reading, participate in activities, and more!
Dial-In Information
Join in Crowdcast:
https://www.crowdcast.io/e/container-gardening-with
Event Contact
Tiffany James
Event Details
Saturday, August 15, 2020, 12:00 PM – 1:00 PM
Free
Location
Add Event To Your Calendar