Guitar Class: "Pre-College Guitar Virtuosos" with Maestro Barrueco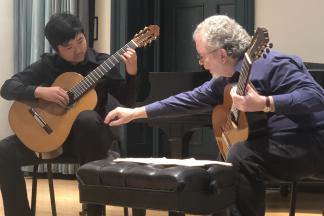 Legendary guitarist and pedagogue, Maestro Manuel Barrueco, will teach his yearly class to "Pre-College Guitar Virtuosos" on October 25, 2020. The class will take place online this year because of Covid-19.
Performers in the class are: Hejia Zhu (13), Muxin Li (13), Chao Tang (14), Qianzheng Wang (15), Reade Park (15), and Erik Wang (16)
At the end of the class, there will be a Q&A session with Maestro Barrueco where auditors can submit their questions.
Registration is necessary. After registering, you will receive a confirmation containing information about joining. Please keep that email as it will contain the password you need to log on.
Please note that the class is from 9am until 2pm but there will be a break in the 11 o'clock hour.
Katie Cho performs for Maestro Barrueco
Event Contact
BCGS
4432962247
Event Details
Sunday, October 25, 2020, 9:00 AM – 2:00 PM
Free
Add Event To Your Calendar