Virtual Front Row: Lea Gilmore & The Juke Joint All Star's Big Fat Blues Cabaret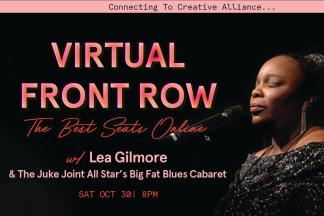 A native Baltimorean, Lea is an internationally known, award-winning singer and activist who is thrilled at every chance she gets to bring music to her home city! She has not only performed with the late Peter Seeger, but she also continues to mix her music and passion for justice here in the US, France, the UK, Belgium, Switzerland, Germany, The Democratic Republic of the Congo, Siberia (for real!), and more.
On October 30th, Lea Gilmore returns to Creative Alliance, staging an all new live performance streamed right to you. This show will be streamed live using a 4-camera, hi definition system for an exceptional viewing experience.
Event Contact
Event Details
Friday, October 30, 2020, 8:00 PM – 9:30 PM
Location
Add Event To Your Calendar