MASS MEDIA AND ITS INFLUENCE ON SOCIETY WORKSHOP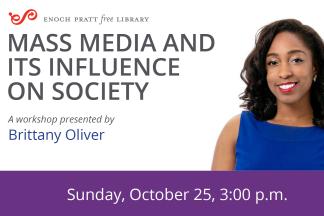 RSVP required. Visit website to RSVP.
In the past five decades, the media and its influential effect on the masses have increased exponentially. Initially, the news and media channels were limited to the telegraph, but technological inventions then found many channels to spread the news to the masses such as the radio, newspapers, magazines, television, websites, and now mobile applications as well. Given this reality, the media has a huge impact on society in shaping the public opinion of the masses, which can form or modify the public opinion in different ways depending on what is the objective.
How can we determine which information is credible and not credible? Brittany Oliver will facilitate a workshop on the history of media and share advice on how to be a responsible media consumer in the era of "Fake News".
Presented by Brittany Oliver, an award-winning activist, speaker, keynote speaker, workshop facilitator and media professional from Baltimore, MD.
Brittany has worked in the media/communications industry for several years, often serves as a keynote and guest speaker for events of all types and regularly conducts workshops on various topics for leaders, influencers, nonprofits and businesses on race and/or gender equity and intersectionality, media training and development, content strategy planning, public policy design and more.
She has facilitated trainings and workshops at institutions such as John's Hopkins University Center for Social Concern, the Global Women's Institute, University of Baltimore, Institute for Policy Studies, UMBC Women's Center and more.
Learn more: http://www.brittanytoliver.com/ 
Event Contact
Event Details
Sunday, October 25, 2020, 3:00 PM – 4:00 PM
Free
Location
Add Event To Your Calendar