Maryland Arts Institute of Racial Justice: Lunchtime Book Club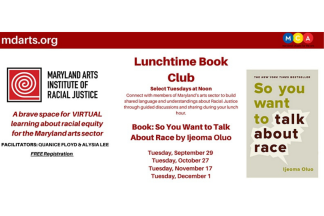 Connect with members of Maryland's arts sector to build shared language and understandings about racial justice through guided discussions and sharing.
For dates, times, and registration, visit the book club registration page.
For those requesting assistance purchasing the books we will be reading as part of this series, please submit the Google Form Book Request.
Event Contact
Event Details
Tuesday, October 27, 2020, 8:00 AM – 9:00 AM
Location
Add Event To Your Calendar