Occupational Therapy and the Baltimore Album Quilt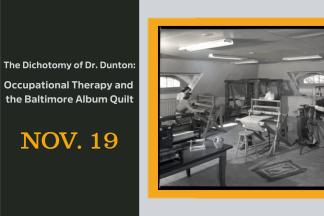 As a 20th-century occupational therapist, Dr. William Rush Dunton Jr. saw potential in a popular tradition of needle crafts dating back to mid-19th-century Maryland women. The "wild and untamed" examples of self-expression through the Baltimore album quilt tradition married the therapeutic benefits of community and occupational therapy's goal of assisting patients' successful transition back into society.
Explore Dunton's journey to understand the Baltimore album quilt tradition with Allison Tolman, MCHC's Vice President of Collections & Interpretation and curator of our new exhibition, Wild and Untamed: Dunton's Discovery of the Baltimore Album Quilts, and Margot Kopera, MCHC's Public Programs Manager, along with Sheppard Pratt staff, Lisa Illum, librarian and archivist, and Vaune Kopec.
Register: https://us02web.zoom.us/.../501.../WN_osHQaCDfRDCZDUMydvX8iA
Event Contact
Event Details
Thursday, November 19, 2020, 12:00 PM – 1:00 PM
Free
Location
Add Event To Your Calendar