Garrick Ohlsson, piano & Kirill Gerstein, piano— Digital Concert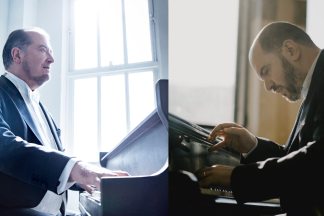 Keyboard powerhouses Garrick Ohlsson, "captivating" (BBC Music) and Kirill Gerstein, "expressive brilliance" (The Guardian), join forces for a two-piano recital of revelatory depth. Recorded in the beautiful San Francisco Conservatory, the program features Busoni's stunning homage to Bach and Rachmaninoff's and Ravel's rich color, rhythmic drive, and melodic splendor. The concert will be followed by an Artist Q&A.
For our Digital Streaming Guide, go to: https://www.shriverconcerts.org/about-us/streaming-guide
Please note that this concert's broadcast premiere is on Sun, Nov 8 at 5:30pm EST, followed by on-demand access through Wed, Nov 11 at 11:59pm EST. The exclusive streaming link will be emailed to all advance ticketholders on Sun, Nov 8 at 1pm EST. All ticket orders placed by 5pm EST will receive the streaming link in time for the concert premiere at 5:30pm EST. Purchases made after 5pm EST will receive the streaming link as soon as the order is processed by SHCS staff.
Event Contact
Zola Barnes
4105167164
Event Details
Sunday, November 8, 2020, 5:30 PM – 7:30 PM
410-516-7164
Location
Add Event To Your Calendar