Dance & Bmore 10th Anniversary Weekend!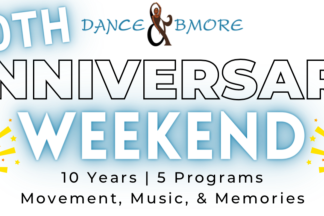 A look back at 10 years of music, movement, and memories! Join us online or outdoors for FREE classes, events, and performances.
Anniversary Weekend Schedule:
Friday, Nov 6th
6PM Dance & Bmore Ensemble Reunion with virtual and video performances (Live Stream on Facebook and YouTube)
Saturday, Nov 7th
11AM - 12PM All About Elder Arts (Live Stream on Dance & Bmore Facebook and YouTube Channel)
6PM Behind the Scenes: Making of Voices of Carmen (Voices of Carmen YouTube Channel)
7PM Full Edit Voices of Carmen Movie Musical (Voices of Carmen YouTube Channel)
Sunday, Nov 8th Dancin' & Dessert at Ice Queens!
WATCH: Dance & Bmore 10th Anniversary Video
Event Contact
Dance & Bmore
4108718322
Event Details
Friday, November 6, 2020, 6:00 PM – Sunday, November 8, 2020, 1:30 PM
4108718322
Free
Location
Add Event To Your Calendar