Demented Songs for Demented Times EXCLUSIVE BROADCAST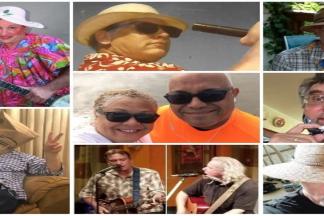 Wow!! Tune in to see and hear several artists who have been on the Dr. Demento show, several who have not, and several who never will be under any circumstances because let's face it, it just ain't gonna happen.
This madcap exclusive broadcast will feature Demento poster-boy-in-an-ugly-dress Bob Pyle, Demento-featured artist Jonathan Jensen, Demento artiste Tom Chalkley, Demento adherents Monica and Edward Graham, Demento-meister Bob Friedman, Dementivo Kingpin Sheldon Braband, Demented Dementos Matt Douglass and Sam Nitzberg, and Demento peacenik Baggy Bagman with his Dancing Troupe of Absolute Fools. All artist ticket sale proceeds from this show will benefit a series of charitable organizations whose political leanings are aligned with all of you who are inclined to align with us (Pennsylvania Stands Up, and Democracy Docket).
Streaming cost is $5
Donations are welcomed.
The link will be revealed to you 15 minutes prior to the show
and remains active until Nov 6
Event Contact
Event Details
Saturday, October 31, 2020, 7:00 PM – 8:00 PM
Location
Add Event To Your Calendar