Poulenc Trio LIVE STREAMING CONCERT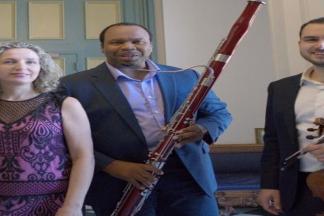 Irina Kaplan Lande, piano
Bryan Young, bassoon
Anton Lande,violin
Members of the Poulenc Trio with guest violinist Anton Lande perform a mix of Latin and Jazz inspired favorites by Ellington, Gershwin, Piazzolla, and Paquito D'Rivera. Featuring the world premiere of Principal Brothers by composer James Lee III.
World Premiere
Principal Brothers No. 4
James Lee III
During the height of America's lockdown related to the 2020 pandemic, and the social awakening in the aftermath of the murder of George Floyd, composer James Lee wrote a series of short pieces for four solo wind players, conceived "as my gift to you during these challenging times." Principal Brothers consists of four unaccompanied works, composed for clarinetist Anthony McGill, flutist Demarre McGill, oboist Titus Underwood and bassoonist Bryan Young, representing instruments from the core woodwind section in an orchestra. Principal Brothers No. 4, for bassoon, is written in three movements. The composer cites the influence of Stravinsky's three short pieces for clarinet, which totals a little more than four minutes in duration. "I thought about a nice way to lift up black people in classical music and I wanted to celebrate the fact that you are all the principal player in your section of your respective orchestras."
Paquito D'Rivera (b. 1948)
1. Afro
2. Danzon
3. Preludio y Merengue
George Gershwin (1898-1937)
Selections from Porgy and Bess
transcribed for violin and piano by Jascha Heifetz
1. Summertime / A Woman Is A Sometime Thing
2. My Man's Gone Now
3. It Ain't Necessary So
Duke Ellington (1923-1974)
arr. for Poulenc Trio by Jonathan Jensen
1. Black and Tan Fantasy/ The Mooch
2. In a Sentimental Mood
James Lee III (b.1975)
Principal Brothers No. 4 (for bassoon solo)
Astor Piazzolla (1921-1992)
arr. José Bragato
1. Otoño Porte?o
2. Oblivion
3. Primavera Porteño
Streaming cost is $7
Donations are welcomed.
The link will be revealed to you 15 minutes prior to the show
and remains active until Nov 7
Event Contact
Event Details
Sunday, November 1, 2020, 2:00 PM – 3:00 PM
Location
Add Event To Your Calendar