ENCORE | Virtual Front Row: Micah E. Wood w/ Live Band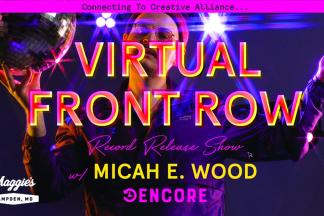 Born in the Tidewater of Virginia, a nice Jewish boy from a nice Jewish family, Micah E. Wood moved to Baltimore in 2009 and quickly entrenched himself in the art scene. Befriending and collaborating with musicians across genre, be it the wild and weird hip hop wordsmiths, seductive dance producers, or the roots players. Micah's sound is deeply influenced by Baltimore's musical communities, creating a sonic cholent, long-stewed in Charm City.
His new work, YOU ARE HERE, captures Micah ready to get down. Sly and danceable, Micah's distinctive tenor yearns over layers of electronic beats and acoustic piano. Outcalls operatic vocalist Melissa Wimbish, through quarantine zoom vocal lessons, influenced Micah's new vocal direction. Joined by friends Jon Birkholz, Bobbi Rush, Dan Ryan, Modern Nomad, Not Charles, and Ari Pluznik, the new record is Baltimore magic. Expect a warm, fun, and danceable virtual show!
Watch his full band performance from November 20th, all captured live using a 4-camera, hi-definition system for an exceptional viewing experience.
Event Contact
Event Details
Tuesday, December 1, 2020, 12:00 AM – Sunday, December 20, 2020, 12:00 AM
Location
Add Event To Your Calendar