ENCORE: CalebStine: 'Round The Modem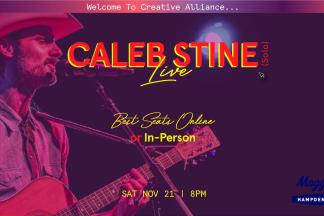 On a normal November, you would likely see Baltimore's own cosmic cowboy Caleb Stine bringing together some of the best musicians around the musical campfire for his 'Round the Mountian Show. He has re-thought this program for a live show + fun and thoughtful outside guests (appearing via video) for what he is dubbing 'Round the Modem. Hook up the dial-up and tune in.
This show is available to view safely from your home via our super HD 4 camera system Virtual Front Row Series.
About your ENCORE Ticket:
For paid access events, upon purchase, you will receive a confirmation email with an access link. Once purchased, you can watch anytime until the end of sale date.
Event Contact
Event Details
Tuesday, December 1, 2020, 12:00 AM – Wednesday, December 23, 2020, 12:00 AM
Location
Add Event To Your Calendar