Lunch & Learn | Midday Improv Lessons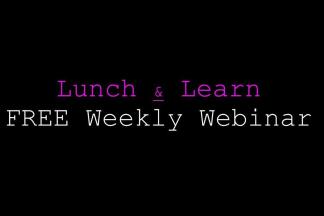 In this weekly webinar we discuss topics in improvisation, communication skills, and mindfulness. These webinars are participatory.
Lunch & Learn | Free Weekly Webinar
-Join Us on Zoom
-Tuesdays in December 2020
-12:00 - 12:45 p.m. (EDT)
-
Donations Welcomed | 18+
Webinar Description
In this weekly webinar we spend our lunch break learning about improv, communication, and mindfulness. Every week covers a different topic, so keep coming back! Sometimes these webinars might be more discussion based. Other times they might be more participatory and experiential. In either case, it's a nice way to squeeze some improv brain food into your lunch break.
Upcoming Topics
-12/1 Saying Yes: Context, Consent, and Negativity
-12/8 Sketch: Scenes & Strategies for Writing Funny
-12/15 The Deconstruction: An Overview and Discussion
-12/22 Allyship: How Improv Helps Us Practice Anti-Oppression
-12/29 Solo Work: Tips for Creating Characters
About Online Classes
Bird City Improv has moved its education program online. Each class includes a variety of activities, including group games, solo work, peer dialogue, breakout room exercises, improvisation and class reflections. Our classes are a chance to meet new people and laugh while learning a new skill. At the end of each lesson, we host an optional Happy Hour for students to socialize.
Classes are "low-cost to no-cost" with free and PWYC options to increase accessibility and disrupt classism. Our business model and curriculum are guided by a philosophy of wellness, equity, and social justice in the arts. Improvisation is the most team-oriented artform and its guiding principle "Yes, And" is predicated on affirmation and support. As such, our classes are inclusive spaces that respect individual experience, honor boundaries, and challenge systems of oppression.
If you're interested in signing up, all you need to join is a device with a webcam. You don't need to be a "funny person." You don't need to know any jokes. You just need to be brave, willing to learn, and willing to laugh.
About the Teacher
Tavish Forsyth (he/his) is a queer, Baltimore-based improviser with New England roots. He is the founder of Bird City Improv, a teaching artist at the Maryland Center for Creative Classrooms, and an adjunct faculty member at Johns Hopkins University. Tavish is a trained actor with two degrees in theatre. He has studied at the Baltimore Improv Group, The Powerhouse Theater, and iO Theatre. He is versed in Long Form Improv, Applied Improvisation, Short Form Theatre Games, Movement, Mindfulness, Stanislavsky Technique, Elizabethan Theatre, Dramatic Writing and Sketch Comedy. Through creating an atmosphere of play, Tavish empowers individuals to listen, adapt, and respond, creating theatre that is silly, patient, and honest.
Any Questions About the Webinar?
Feel free to reach out at [email protected]. Any and all questions are welcomed. We are happy to discuss any curiosities or concerns with interested students.
Visit www.birdcityimprov.com to view our offerings.
Event Contact
bird city
Event Details
Repeats weekly Tuesday -- until Tuesday December 29, 2020.
Free
Location
Add Event To Your Calendar