Virtual Holiday Card Printmaking Workshop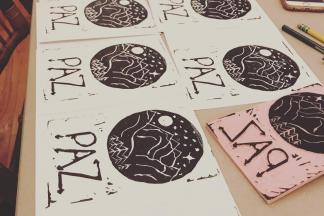 YOUR TICKET INCLUDES:
2 Hour Virtual Linoleum Printmaking Art Class
10 Self-Printed Cards to Stamp and Take Home with Envelopes
All Tools and Materials Needed to Create your Own Lino Blocks
Instruction from Start to Finish
EVENT DETAILS:
*Google Meet Link Will Be Sent the Day of the Workshop*
Linoleum Printmaking, or Linocut, is a printmaking technique in which a design is cut into the surface of a linoleum block with a sharp knife, V-shaped chisel, or gouge, with the uncut areas representing a mirror image of the art to be printed. The linoleum block is then inked with a roller and impressed onto paper. Using these blocks and ink, you can create greeting cards, stationary, wall-art, or any other stamping application!
We will be learn a new craft and create printed masterpieces from linoleum blocks that you can reuse over and over! First, we'll get a demonstration of how to work with the tools and materials used in creating these one-of-a-kind prints. Then, we will test out our new skills on a small tester block. After getting a feel for the tools, we will sketch our designs and transfer them to our block. Next we'll carve up a 4″ x 6″ linoleum block that is the perfect size for our cards! Check out our Pinterest board for inspiration! Or bring your own designs and ideas! After creating our linocuts, we'll break out the ink and specialized rollers and get to printing! As part of this class, you will receive a take-home linoleum block, ink, carving tool, and roller for you to create your own 'mini printing presses', and 10 quality cards and matching envelopes!
Whether you're looking to make holiday cards to express your appreciation for the loved ones in your life, fun cards to celebrate the season, or hand-made invites to a Solstice celebration – Linoleum Printmaking is fun for all!
Join us for this special event to tap into your creative side and release your inner artist.
Email [email protected] if you'd like to take the class and use your own supplies for $40.
Materials May be Picked Up the Week of December 7
Event Contact
Event Details
Thursday, December 10, 2020, 7:00 PM – 9:00 PM
Location
Add Event To Your Calendar