Be True to You Poetry Workshop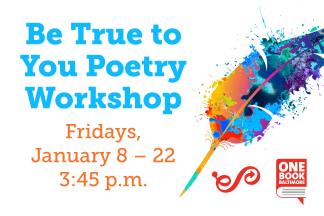 As we continue with One Book Baltimore programming 7th and 8th graders in Baltimore City are invited to join the Modell Lyric as they present this three-session workshop about taking your poetry from the page to the stage. Learn to write poetry that speaks truth to who you are, and then to perform it in your own unique voice. Taught by Ron Kipling Williams, Education Manager, the Modell Lyric.
Event Contact
Event Details
Repeats weekly Friday -- until Friday January 22, 2021.
Location
Add Event To Your Calendar