Poetry & Conversation: Carl Phillips with Lia Purpura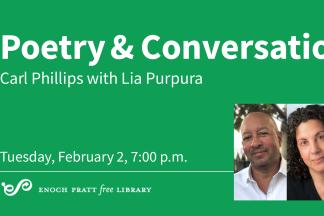 Carl Phillips reads from his poetry and discusses it with Lia Purpura.
Carl Phillips is the author of 15 books of poetry, most recently Pale Colors in a Tall Field (FSG, 2020). His other books include Wild Is the Wind (FSG, 2018), winner of a Los Angeles Times Book Prize. Publishers Weekly, in a starred review, called it "haunting and contemplative as the torch song for which the collection is named." His selected poems, Quiver of Arrows: Selected Poems 1986-2006, was published by FSG in 2007. Other books include The Tether (FSG, 2002), winner of the Kingsley Tufts Poetry Award, Double Shadow (FSG, 2012), winner of the Los Angeles Times Book Prize, and Silverchest (FSG, 2014), a finalist for the Griffin Prize. He recently published a chapbook, Star Map with Action Figures (Sibling Rivalry Press, 2019). A four-time finalist for the National Book Award, and a finalist for the National Book Critics Circle Award, his other honors include the Lambda Literary Award, an Award in Literature from the American Academy of Arts and Letters, the Theodore Roethke Memorial Foundation Poetry Award, the Thom Gunn Award for Gay Male Poetry, and fellowships from the Guggenheim Foundation, the Library of Congress, and the Academy of American Poets, for which he served as Chancellor from 2006-2012.
Lia Purpura is the author of nine collections of essays, poems, and translations. A finalist for the National Book Critics Circle Award, her awards include Guggenheim, NEA, and Fulbright Fellowships, as well as four Pushcart Prizes, the Associated Writing Programs Award in Nonfiction, and others. Her work appears in The New Yorker, The New Republic, Orion, The Paris Review, The Georgia Review, Agni, and elsewhere. She lives in Baltimore, MD, where she is Writer in Residence at The University of Maryland, Baltimore County.
Please email [email protected] with questions about this event.
DIAL-IN INFORMATION
Please click the link below to join the webinar:
https://marylandlibraries.zoom.us/j/92712340399?pwd=ako3WnZFL0VxdGZ6YzRQ...
Passcode: 943903
Or Telephone:
Dial(for higher quality, dial a number based on your current location):
US: +1 301 715 8592 or +1 312 626 6799 or +1 470 250 9358 or +1 470 381 2552 or +1 646 518 9805 or +1 646 558 8656 or +1 651 372 8299 or +1 786 635 1003 or +1 267 831 0333 or +1 253 215 8782 or +1 346 248 7799 or +1 602 753 0140 or +1 669 219 2599 or +1 669 900 9128 or +1 720 928 9299 or +1 971 247 1195 or +1 213 338 8477
Webinar ID: 927 1234 0399
Passcode: 943903
International numbers available: https://marylandlibraries.zoom.us/u/anh5Cg0MG
The conversation will also be broadcasted on the Enoch Pratt Free Library Facebook page.
Event Contact
Event Details
Tuesday, February 2, 2021, 7:00 PM – 8:00 PM
Free
Add Event To Your Calendar