Ceasefire Conversation: Daryl Davis & Kondwani Fidel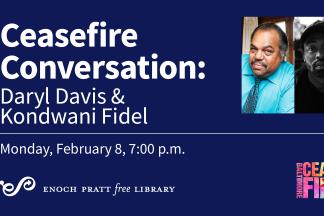 An intergenerational conversation about racism and activism in America between authors and activists Daryl Davis & Kondwani Fidel.
Daryl Davis is an R & B and blues musician, actor, bandleader and author of Klan-destine Relationships: A Black Man's Odyssey in the Ku Klux Klan which details his personal journey to improve race relations.
Kondwani Fidel is a spoken word poet who uses the power of storytelling to confront education reform. His latest book is The Anti-Racist: How to Start the Conversation About Race & Take Action.
DIAL-IN INFORMATION
Please click the link below to join the webinar:
https://marylandlibraries.zoom.us/j/99417685859?pwd=VE96eXJta1pwK3VhVUpI...
Passcode: 353777
Or Telephone:
Dial(for higher quality, dial a number based on your current location):
US: +1 301 715 8592 or +1 646 558 8656 or +1 651 372 8299 or +1 786 635 1003 or +1 267 831 0333 or +1 312 626 6799 or +1 470 250 9358 or +1 470 381 2552 or +1 646 518 9805 or +1 669 900 9128 or +1 720 928 9299 or +1 971 247 1195 or +1 213 338 8477 or +1 253 215 8782 or +1 346 248 7799 or +1 602 753 0140 or +1 669 219 2599
Webinar ID: 994 1768 5859
Passcode: 353777
International numbers available: https://marylandlibraries.zoom.us/u/aAgAFAHiL
Event Contact
Event Details
Monday, February 8, 2021, 7:00 PM – 8:00 PM
Free
Add Event To Your Calendar