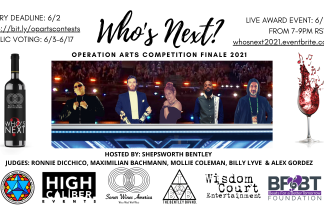 Virtual, Maryland: Operation ARTS Foundation Inc in partnership with Sonor Wines America would like to announce a new innovative contest for creatives! We have extended our original deadline to open the opportunity to more artists in the area! This creative contest is called the Sonor Wines America - Music competition, where musicians of all genres will compete for prizes and the chance to have their music infused into wine! This is a juried show with an entry fee of $20 and is a tax-deductible contribution. Proceeds go towards the artist prize and also towards funding the wine festival post-pandemic. Submissions will not be accepted after the deadline on June 2nd and then we will open up public voting from 6/3 - 6/17 so you can pick your fan favorites for the top 10 finalists. This event is hosted by Shepsworth Bentley of The Bentley Brvnd and our panel of industry leaders will decide the winner of the wine competition. Judges of the competition include Maximilian Bachmann the owner of Sonor Wines America, Mollie Coleman of High Caliber Events, Billy Lyve of Wisdom Court Entertainment, and two of the musicians of the previous wine bottles of 2018, Ronnie Dicchico & Alex Gordez. The winners of the contest will be announced during our live virtual event hosted on June 25th from 7-9 PM on Facebook Live and YouTube. Like our social media pages and share the event for a chance to win prizes including bath bombs or wine! Our sister nonprofit, Beats For A Better Tomorrow Foundation, will be supporting the event production to help us create a one-of-a-kind virtual experience. Join our growing movement of strategic collaboration to build a foundation and standard for career creatives. Together we can make the world more artful.
Entry Ends: 6/2
Public Voting: Opens 6/3 - 6/17
Live Event: 6/25/21 (7-9 PM)
Eventbrite: https://whosnext2021.eventbrite.com
Facebook Page: https://www.facebook.com/events/1051862215308832/
Fundraiser / ARTIST SUBMISSION FORM: http://bit.ly/opartscontests
Sonor Wines Competition Video: https://youtu.be/b9GKctTW9aI
Sonor Wines Music Competition Rules:
https://docs.google.com/document/d/17ulrLqTpaCdLvRn3Y0E20SYP-gac33eRsz9A...
Event Contact
Chyna Mae & Renee Taylor
(443)​ ​962-5941 / (240) 351-8354
Event Details
Friday, June 25, 2021, 7:00 PM – 9:00 PM
Free
Location
Add Event To Your Calendar