Seven at Seven: Local Poets Showcase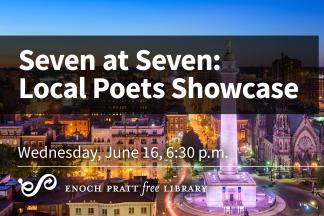 Join us for a live virtual reading by Virginia Crawford, E. Doyle-Gillespie, Meg Eden, Brian Gilmore, Joseph Harrison, Christine Higgins, and Michael Salcman, seven local poets with recent books.
Virginia Crawford, author of questions for water (Apprentice House Press, 2021), is a long-time teaching artist with the Maryland State Arts Council. She has co-edited two anthologies: Poetry Baltimore, poems about a city and Voices Fly, An Anthology of Exercises and Poems from the Maryland State Arts Council Artist-in-Residence Program. She earned degrees in Creative Writing from Emerson College, Boston, and The University of St. Andrews, Scotland. Her book Touch appeared in 2013 from Finishing Line Press. She writes and lives in Baltimore with her family.
E. Doyle-Gillespie is a Baltimore City Police officer. A 15-year veteran of the force, he has worked in patrol, operations, and education among other specializations. His books of poetry include Masala Tea and Oranges, On the Later Addition of Sancho Panza, Socorro Prophecy, and Aerial Act. His most recent title is Gentrifying the Plague House, an exploration of our world of social upheaval and pandemic. He is a former teacher who holds a BA in History from George Washington University, and a Master of Liberal Arts from Johns Hopkins University.
Meg Eden is a 2020 Pitch Wars mentee and teaches creative writing at Anne Arundel Community College. She is the author of five poetry chapbooks, the novel Post-High School Reality Quest (2017), and the poetry collection Drowning in the Floating World (2020). She runs the Magfest MAGES Library blog, which posts accessible academic articles about video games. Find her online at www.megedenbooks.com or on Twitter at @ConfusedNarwhal.
Brian Gilmore, Washington, D.C., poet and longtime public-interest lawyer, is the author of four collections of poetry: elvis presley is alive and well and living in harlem, Jungle Nights and Soda Fountain Rags, We Didn't Know Any Gangsters, and come see about me, marvin, which received a 2020 Michigan Notable Book Award. He is a Cave Canem Fellow and Kimbilio Fellow and twice recipient of a Maryland State Arts Council Individual Artist Award. He currently teaches social justice law at Michigan State University.
Joseph Harrison is the author of six books of poems, including Someone Else's Name, Identity Theft, Shakespeare's Horse, and, most recently, Sometimes I Dream That I Am Not Walt Whitman. His poetry has been published in numerous journals (such as The New York Review of Books, Parnassus, Raritan, and The Yale Review) and several anthologies (including Best American Poetry, the Library of America's American Religious Poems, and Norton's Leadership: Essential Writings of Our Greatest Thinkers). He is Senior American Editor for the Waywiser Press.
Christine Higgins is the author of Hallow, a full-length collection of poetry published in spring 2020 (Cherry Grove). She was the second-place winner in the Poetry Box competition for her chapbook, Hello, Darling, in 2019. She is the co-author of In the Margins, A Conversation in Poetry. She has been the recipient of a Maryland State Arts Council Award for both poetry and nonfiction. Her work has appeared in America, Poetry East, Naugatuck River Review, and Windhover. Learn more at www.christinehigginswriter.com.
Michael Salcman, poet, physician and art critic, served as chairman of neurosurgery at the University of Maryland and president of the Contemporary Museum and CityLit. Poems appear in Arts & Letters, Café Review, Hudson Review, New Letters, and Raritan. Books include The Clock Made of Confetti; The Enemy of Good Is Better; his popular anthology, Poetry in Medicine; A Prague Spring, Before & After, winner of the Sinclair Poetry Prize; and Shades & Graces: New Poems (Spuyten Duyvil, 2020), inaugural winner of The Daniel Hoffman Legacy Book Prize.
Listen to "Thoughts on Making Soup and War" by Virginia Crawford.
Read "Oasis Bridesmaids" by E. Doyle-Gillespie.
Read "Rikuzentakata" by Meg Eden.
Read "detroit sketch #1 (for m.l.)" by Brian Gilmore.
Read "Mark Strand" by Joseph Harrison.
Read "The Boy" by Christine Higgins.
Listen to "In-Painting" and "The Cult of Beauty" by Michael Salcman.
Email [email protected] with questions about this event.
ASL interpretation will be available for attendees.
This event is part of Summer Break Baltimore, a fun, free program for all ages that encourages literacy and learning in our community.
Dial-In Information
Please click the link below to join the webinar:
https://marylandlibraries.zoom.us/j/96107126843?pwd=aTNaTGpWZ0k5TzYxVkZo...
Passcode: 317412
Or iPhone one-tap :
US: +13017158592,,96107126843#,,,,*317412# or +16465588656,,96107126843#,,,,*317412#
Or Telephone:
Dial(for higher quality, dial a number based on your current location):
US: +1 301 715 8592 or +1 646 558 8656 or +1 651 372 8299 or +1 786 635 1003 or +1 267 831 0333 or +1 312 626 6799 or +1 470 250 9358 or +1 470 381 2552 or +1 646 518 9805 or +1 669 900 9128 or +1 720 928 9299 or +1 971 247 1195 or +1 213 338 8477 or +1 253 215 8782 or +1 346 248 7799 or +1 602 753 0140 or +1 669 219 2599
Webinar ID: 961 0712 6843
Passcode: 317412
International numbers available: https://marylandlibraries.zoom.us/u/aomjqQN6m
The reading will also be broadcast on the Enoch Pratt Free Library Facebook page. It can be watched after the broadcast on Facebook Live. Click here for the Live video library.
Event Contact
Event Details
Wednesday, June 16, 2021, 7:00 PM – 8:30 PM
Free
Add Event To Your Calendar