An Evening with Dominique Jackson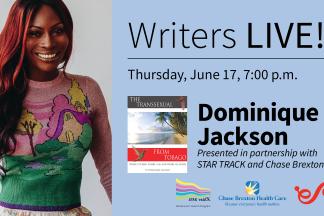 Registration not required, but encouraged. Please check back for the Eventbrite link. Presented in partnership with STAR TRACK and Chase Brexton.
Honor Pride Month with Chase Brexton, Enoch Pratt Free Library, and STAR TRACK. Dominique Jackson will be in conversation on her life and work.
Model, Actress, Author, Advocate and Activist Dominique Jackson was born on the smaller island of the twin island Republic of Trinidad and Tobago. At the age of 15, she moved to the US to escape traumatic situations. Jackson graduated in the 10th percentile of her class at Owings Mills High School before going on to attend Fayetteville State University and Morgan State University. Enduring intolerance, discrimination and prejudice, Jackson left school and moved to New York City, where she became a member of The Underground House/Ball Community, the NYC LGBT Entertainment Circle and The Pageantry System - winning six crowns/titles while competing locally and nationally.
A leader in her community, Jackson has been awarded several accolades and was also inducted into the House and Ballroom Hall of Fame and deemed Iconic on February 27, 2016 at the NYC Ball Awards. In 2017, Jackson received the Legacy of Pride Award presented by Harlem Pride and received the first Bronx LGBT Leadership Award presented by Bronx Borough President Ruben Diaz JR and Allies LGBT PRIDE CELEBRATION. That same year, she was honored with the New York State Assembly Citation issued by Mark Gjonaj.
A fashion model since 2000, Jackson began her career at Brooklyn Fashion Week before moving onto Mercedes-Benz Fashion Week. In 2011, she served as Mistress of Ceremonies in Solomon Harris' take on the ballroom scene Newark Is Burning at NJPAC (Newark, NJ). Jackson is one of the resident models to Adrian Alicea Couture, Manuel Pelferes Couture and Angel Ayala Couture. She added Gypsy Sport by Rio Uribe and Stevie Boi to her runway accomplishments during 2016 Fall/Winter Fashion Week.
In 2014, Jackson released her autobiographical memoir The Transsexual from Tobago (Revised). Later that year, she starred in Carla Pridgen's Incongruence produced by Ivy Theatre. In 2016, she starred in Oxygen Network's GLAAD Award winning reality docu-series Strut, executive produced by Whoopi Goldberg and Tom Leonardis, and the short film T Times by Gabriel Torres.
Order your copy of The Transsexual from Tobago from the Ivy Bookshop.
ASL interpretation will be available for attendees.
Writers LIVE programs are supported in part by a bequest from The Miss Howard Hubbard Adult Programming Fund.
This event is part of Summer Break Baltimore, a fun, free program for all ages that encourages literacy and learning in our community.
Dial-In Information
Please click the link below to join the webinar:
https://marylandlibraries.zoom.us/j/99136438890?pwd=UTY3cjFKY0VVWlp1UFhx...
Passcode: 007507
Or One tap mobile :
US: +13017158592,,99136438890#,,,,*007507# or +16513728299,,99136438890#,,,,*007507#
Or Telephone:
Dial(for higher quality, dial a number based on your current location):
US: +1 301 715 8592 or +1 651 372 8299 or +1 786 635 1003 or +1 267 831 0333 or +1 312 626 6799 or +1 470 250 9358 or +1 470 381 2552 or +1 646 518 9805 or +1 646 558 8656 or +1 720 928 9299 or +1 971 247 1195 or +1 213 338 8477 or +1 253 215 8782 or +1 346 248 7799 or +1 602 753 0140 or +1 669 219 2599 or +1 669 900 9128
Webinar ID: 991 3643 8890
Passcode: 007507
International numbers available: https://marylandlibraries.zoom.us/u/aduLbe2gXB
The conversation will also be broadcast on the Enoch Pratt Free Library Facebook page. It can be watched after the broadcast on the library's Facebook Live. Click here for the Live video library.
Event Contact
Event Details
Thursday, June 17, 2021, 7:00 PM – 8:00 PM
Free
Add Event To Your Calendar